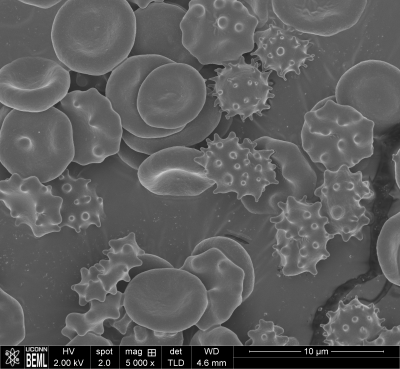 SEM Image Analysis of Red Blood Cells
This is a collaboration with a SUNY Stony Brook Biomedical Engineering research team.  We are using SEM to image and quantify normal and echinocyte red blood cells.
Collaborators
Professor Molly Frame, SUNY Stony Brook
Students working on this include:
Anna Elligulashvili
Alexander Perkins
Publications related to this project
S. Weber-Fishkin, A. Eligulashvili, L. Frame, M. Frame (2020) Actin Destabilization Enhances Thermally‐induced Morphological Abnormalities in Erythrocytes
The FASEB Journal 34 (S1), 1-1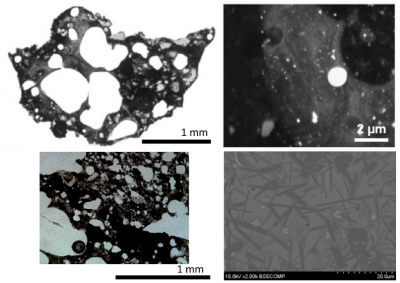 Development and Characterization of Extraterrestrial Soils for Local Vehicle Test Beds
The primary goal of the proposed project is to enrich student research experiences through development of accurate extraterrestrial simulant soil test beds.  The Frame Research Group is collaborating with Professor Jani Pallis at University of Bridgeport on this project.  The Frame team is focusing their efforts on the development and characterization of regolith materials, and the Pallis team is responsible for the design and fabrication of the test beds.
Collaborators
Professor Jani Pallis, University of Bridgeport
Funding Provided by:
NASA Connecticut Space Grant Consortium
Students working on this include: